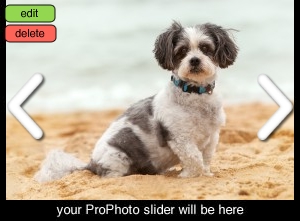 We are regularly asked to do pet portraits. And why not? Your pet is a special extension to your family. Dog portraits are particularly in demand, and it never ceases to amaze us how much a dog loves the attention of having their photo taken! Horses are another popular pet we are requested to photograph.
Capture your special pet on camera and provide ever-lasting memories. Just like our 'people portraits', we take the time leading up to your pet's photo shoot to get to know more about your animal child. This way we can determine the best type of session to bring out their furry best.
Our pet portraits are conducted either in the studio or on location, depending on the type of animal and what look you are after.
After your photo shoot, you will be invited back to the studio to select your favourite images and decide on the best way of displaying them. We offer a wide selection of finished products, including popular canvas wall art. How about a large canvas portrait of your pet hanging pride of place above the fireplace? Priceless.