SESSION FEE: $150
• A professional photographic shoot with an experienced award winning photographer
• Use of all studio blankets, wraps and accessories
• Personalised Viewing and Ordering appointment where we will help you design your portrait collection
• All editing and retouching of your final art pieces.
• The $150 Session fee does not include prints, digital files or products.
• All prints and products are purchased separately at your personal viewing appointment approx one week after your shoot.
• We offer interest free payment plans through PayRight
We take the time at your viewing/ordering appointment to help you with your order, so you can choose the right size and style to suit your home. We have an option to suit everyone. Special discounts are offered during your viewing/ordering appointment on bundled products.
MOUNTED PRINTS:
Mounted prints are one of our most popular products. A stylish display for presenting individual images.
Made from sturdy frame mounting board, they are designed to suit standard sized frames which means you can easily frame your images yourself to create a wall gallery in your home. They fit perfectly into our gorgeous Signature Box, and make a special gift for grandparents and other family.
WALL ART
A classic and traditional finishing option for your favorite images.
We have contemporary and classical frames on offer to compliment and highlight your images. Manufactured using high end Italian moldings. Each frame includes an acid free white frame mount and include plexiglass, as opposed to normal glass as plexiglass is stronger, lighter, more shatter-resistant and provides a lot more UV protection to your images. Available in a range of sizes.

CANVAS
Hand-stretched canvas allows you to create a work of art for your family. The texture of the canvas is a perfect medium for vibrant, intense colour or a classic Black and White. Canvas wall art is a gorgeous wall art option for your newborn's nursery. Available in a range of sizes.
NEWBORN STARTER PACK
A beautiful grey linen box holding 10, 15 or 20 of your favorite images printed on fine art quality paper and mounted using archival frame mounting board.
Available in two sizes: 5×7" mounted to suit a 8×10" frame or 7×10" mounted to suit a 11×14" frame. Prints are designed to suit standard sized frames which means you can easily frame your images yourself.
Mounted prints are perfect for a beautiful wall gallery or leave them in the box as a keepsake. Includes a USB with the
corresponding digital images.
SIGNATURE BOX
The signature box is a stunning wooden presentation box, finished with the finest materials and highest craftsmanship. Features include silver polished hinging, black suede linings and a crystal clear semi-glassed front cover. Deep enough to hold up to 20 mounted prints.
ALBUMS
Our newborn albums are beautifully handcrafted offering you the most gorgeous keepsake for your precious newborn babies image collection. This album will tell your families story and include all the details you want to remember forever.
Available in two sizes, 9" and 12", they are square in size allowing your images to be either displayed vertical or horizontal.  Each album is filled with your choice of 20 images
Offering a variety of cover options including contemporary linens, silks and gorgeous leather. All albums come packaged in a black presentation box. Each album includes 20 digital images on USB.
DIGITAL IMAGES
High resolution digital image collections are available in a minimum of 10 images on USB. larger collections are also available.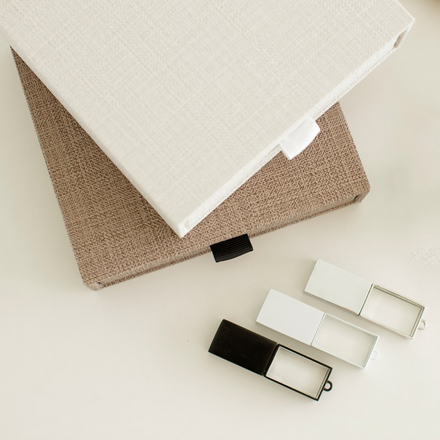 For more information on our product range and packages please give us a call on 9372 8853 we are more than happy to chat further.